Microsoft's developer_direct The event spread a lot of information regarding the various upcoming games for its Xbox gaming platform. This includes new details for Raidfall, The Elder Scrolls Online, Minecraft Legends and Forza Motorsport. Additionally, Microsoft surprised fans with the announcement of the new rhythm action brawler game Hi-Fi Rush, which can now be played through Game Pass. Here are more details about these games and other announcements shared during the 44-minute-long event.
Minecraft Legends
Fans can now pre-order the action-strategy Minecraft spinoff game 'Minecraft Legends'. Which will be released on April 18 on Xbox Series X|S, Xbox One, Windows PC, PS5 and PS4, and Nintendo Switch. It boasts of a PvP mode, which was showcased during the event, allowing players to form two teams of up to four members each and compete. What is interesting about the action-strategy game is the procedurally generated environment, which makes the challenge of victory more exciting for the players. This will lead players to adapt to situations and create excellent communication with their teammates to crush the opposing team's base.
forza motorsport
Excellent graphics and rendering are the overall highlights of Forza Motorsport, which will implement real-time ray tracing to allow for realistic visuals, from reflections to damage. It'll be available this year, and though there's still no confirmed date, the game clips are enough to make you wait with excitement. In the video featuring vehicle art director Gabe Garcia, the game's detailing from the cars to the tracks provides utmost realism. This includes lighting, dirt, and more. In general, the game's environments will be rendered in 4K at 60fps. The details make it possible for players to feel as though they are racing in real daylight. What's more, there will be over 500 cars to try out and customize and five new locations to drive the cars in, including South Africa's Kyalami track. All these things coming soon Xbox Series X | S and Windows PC and will also come in Cloud Gaming (beta).
hi-fi rush
Xbox fans were in for a surprise to get treated to a new game that was unannounced prior to the event. Tango Gameworks' Hi-Fi Rush, a brawler-type single-player game, is now available on Xbox Series X/S and PC via Game Pass. The rhythm action-adventure game features a character named Chai, who can sense the rhythm of the world. Along with it, players must play the game by matching beats during moves, dodges, and attacks in order to defeat the opponents.
the Elder Scrolls Online
Zenimax announced that the major update for The Elder Scrolls Online will be called "The Elder Scrolls Online: Shadow over Morrowind". The update will bring two new DLCs titled The Elder Scrolls Online: Scribes of Fate and The Elder Scrolls Online: Necrom. The former DLC will first be available in March (March 13 – Windows PC and March 28 – Xbox Series X | S, Xbox One and PlayStation), while the Necrom DLC will be available in June (June 5 – Windows PC and June 20 – Xbox Series X | S, Xbox One and PlayStation). The update allows players to explore different The Elder Scrolls III: Morrowind locations and other new content. For Scribes of Fate, players will have new dungeons in Scriveners' Hall and Baal Sunnar. Meanwhile, the Necrom DLC will deliver two additional companions and the new Arcanist class across its 30-hours of story-driven content.
red fall
Redfall releases on May 2nd, and we've got a pretty clear view of what to expect from the game when it comes out. At Developer_Direct, the Xbox Showcase gave viewers a glimpse of the vampire they'd face. These enemies will take on different forms, which obviously have different abilities, such as shields and the ability to move through floors. Some of these vampires would be the so-called "shrouds" and vampire gods. Thankfully, the game offers players a plethora of weapons to use and even combat robots that can distract and kill vampires.
New Xbox Game Pass coming in the coming weeks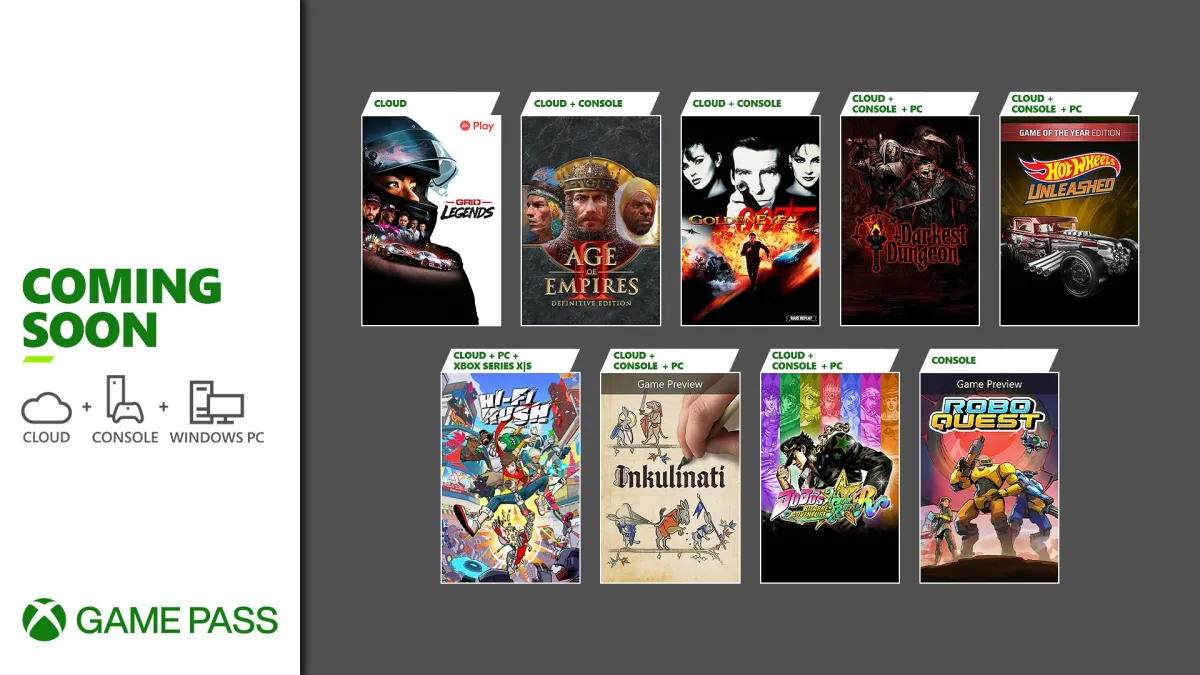 After revealing the details of the games mentioned above, Xbox shared It will be rolled out to Game Pass in the coming weeks. In addition to the Hi-Fi RUSH that surprised everyone, the gaming service also introduced GoldenEye 007, RoboQuest (game preview), Age of Empires II Definitive Edition, Inculinati (game preview), Jojo's Bizarre Adventure All-Star Battle R, Darkest Dungeon Will do , Grid Legends, and Hot Wheels Unleashed – Game of the Year Edition.